Traditional old house inn where you can experience the history and nature of the Aizu-Yonezawa Kaido road.
The Seki District, at the boundary of Yamagata Prefecture and Fukushima Prefecture, was once heavily traveled as people used the Aizu-Yonezawa Kaido road.
You can still see vestiges of the road throughout the district while enjoying the variety of hospitality unique to the Seki District, which is blessed with nature.
Meals featuring plenty of local mountain vegetables and fresh vegetables are an attraction of this inn.
We hope that you will spend a relaxing country life while learning about the history of our area.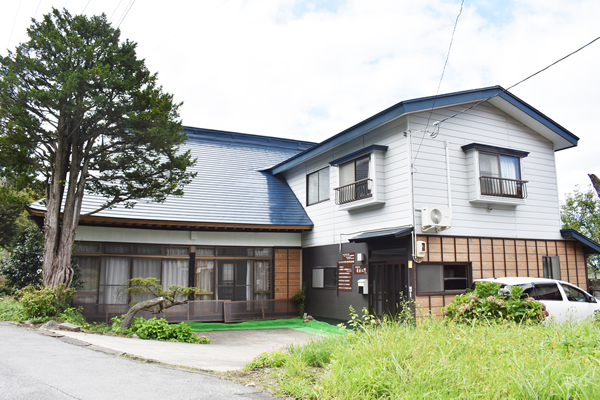 Our inn is a 130-year old traditional home that has been renovated.
There are plenty of opportunities to interact with nature throughout the year.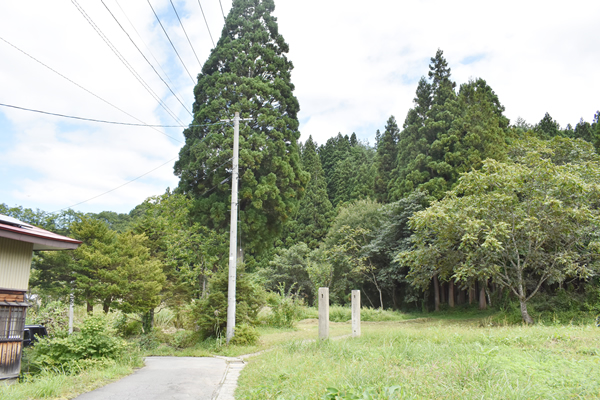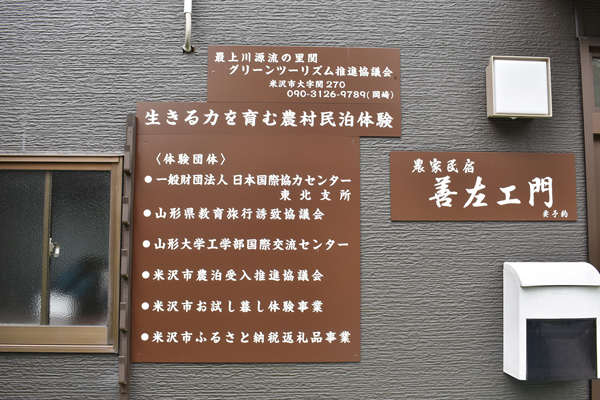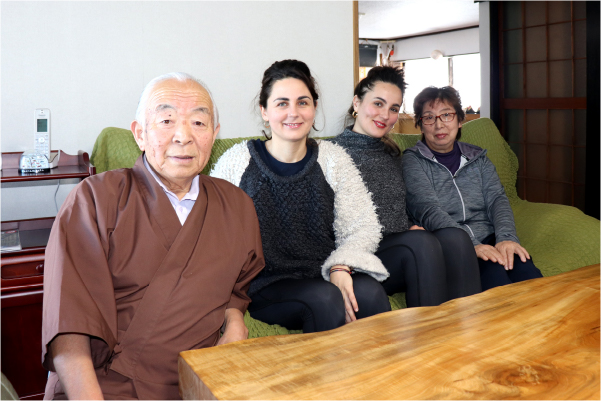 Experience country life at Yonezawa where nature and history abound.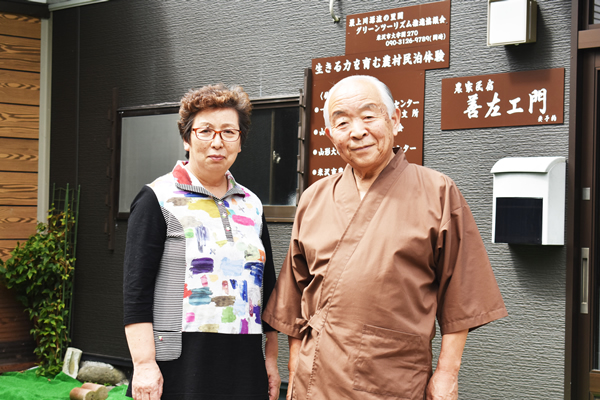 Farmhouse Inn Zenzaemon Toshikatsu and Kinuko Okazaki
Our woodland is located at the source of the Mogami River, at the very southern end of Yamagata Prefecture.
We are blessed with abundant nature and history. Date Masamune, known familiarly as One-Eyed Dragon and his retainer, Hasekura Tsunenaga from the Sendai Domain, who traveled to Spain and Rome under orders from Masamune, were born here.
There are various natural, historical, and seasonal experiences in the Seki District that you cannot try during your everyday life.
We are a family-atmosphere inn. We hope you will relax and enjoy your stay.
Rates and Hours
Basic Rates
One night and two meals  ¥7,000/adult (tax inclusive)
Options
Various experiences: ¥1,500 to ¥2,000
Payment
Cash only, Pay at Inn
Hours
Check-in: 15:00 (Negotiable)
Check-out: 10:00 (Negotiable)
Other information
Cancellation Policy
Day of arrival: 100% of lodging fees

Rooms
Max. 8 people

Two Japanese-style rooms with futon bedding
Amenities
Soap, body soap, shampoo (including 2-in-1 shampoo), conditioner, hairdryer
Facilities
Toilet, shower, bath, kitchen, refrigerator, dishes, A/C, fan, washing machine (free), laundry pole, television
Bathing Facilities
Bathroom available
Hot spring facility located nearby (Shuttle available) Shirabu Onsen, Onogawa Onsen

Others
Pets allowed
No smoking
Meals
Enjoy country dishes featuring bountiful home-grown vegetables and local mountain vegetables.

[Example of dinner menu]
Simmered dish, tempura, meat roll, Chawanmushi egg custard, seasonal vegetables, kanten(Agar), etc.
Recommended Points at and around the Inn
[Activities at our Inn] ■Agricultural experience
* Crops: Rice, vegetables (cucumbers, tomatoes, watermelon, potatoes, etc.)
* Work: Furrowing, rice planting, harvesting, mountain vegetable picking, etc.

■Nature experience
* Stroll through satoyama woodlands.
* Play with snow and make snowmen.

■Others
* Experience food and lifestyle culture, such as rice cake pounding.
* Take a walk through the town to learn the local history.



[Activities in the Area] * Experiences in Seki District
[Spring] All-you-can-eat cherry plan at local cherry orchard / Fresh mountain vegetable festival
[Autumn] Autumn festival / Grape and apple picking at local fruit orchard plan
[Winter] Experience snow country fun with plentiful snow

* Other experiences in this area
・Otaka Poppo painting experience (reservations required)
・Koma (Japanese top) painting experience
・Sutra copying experience (reservations required)
・Tour of Onogawa Onsen rice paddy art
・Trekking at Tengendaikogen
・Yonezawa Hatto (Eight Onsens) Shirabu Otaki

From the Inn
| | |
| --- | --- |
| | Enjoy country dishes such as mountain vegetables and vegetables grown in a lush natural environment. |
Farmhouse Inn Zenzaemon
Address
270 Oaza Seki, Yonezawa, Yamagata Prefecture 992-1472
Tel
+81-238-38-4156 / +81-90-3126-9789
Fax
+81-238-38-4156
WEB
Facebook
Twitter
Instagram
Access
Approx. 30 minutes from Yonezawa- Hachimanpara IC on Tohoku-Chuo Expressway
* Pick-up/drop-off: Available
* Parking spaces for 8 cars