An inn where you can enjoy seasonal local cuisine and "Satoyama "life experience .
With a history of 1,200 years, Atsumi Onsen is one of the most famous hot springs in Yamagata, surrounded by deep greenery. Many people have loved it since ancient times for its soft water and medicinal qualities. Uenonti situated along the Atsumi River, which runs through the center of the hot springs area, is an inn where you can enjoy Atsumi Onsen while experiencing seasonal local cuisine and "Satoyama"life. Learn about the appeal of this area from a slightly different perspective from a traditional hot springs trip.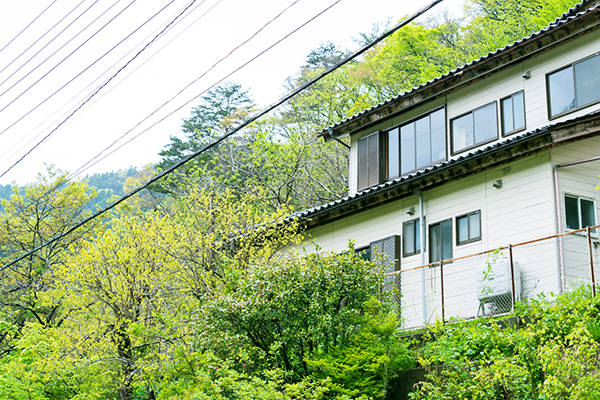 5-minute walk to the center of Atsumi Onsen. With the ocean and mountains just a short distance away, there are plenty of plans for enjoying nature.
Experience the nature of Atsumi Onsen and local food culture in an
atmosphere just like a relative's home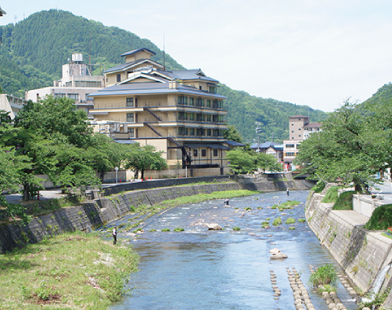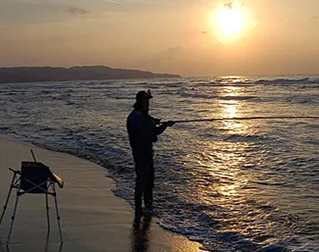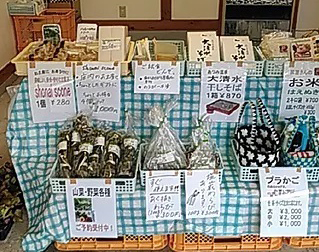 I would like many people to experience the extraordinary nature of Atsumi Onsen,
where I was born and raised, and how to enjoy it.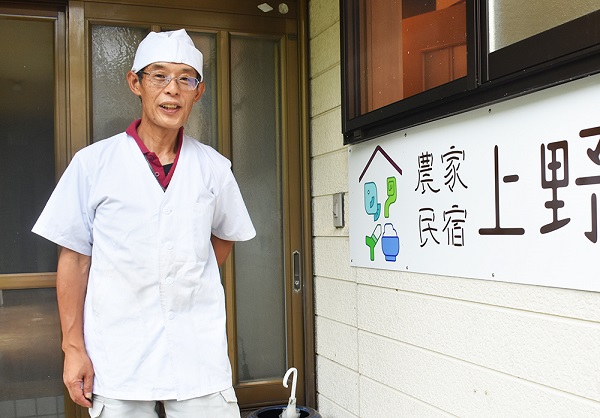 Farmhouse Inn Uenonti  Toshiaki Ueno
After retiring from my job of 35 years, I obtained a cooking license to realize my longtime dream of opening a farmhouse inn. I also registered as a dietary education instructor and officially opened "Uenonti" in August 2021.
We are very easy-going. We hope you'll visit as if you were returning to your parents' home. Let us know if you don't understand our local Shonai dialect.
Rates and Hours
Basic Rates
One night with breakfast (tax inclusive)
¥6,000/night (13 years and older)
¥4,000/night (12 years and younger)

Options
diner(Cooking experience with the owner)¥1,500
Farming experience,Living experience ¥1,000each
Payment
Cash or cashless (PayPay,Air PAY),Pay at Inn
Hours
Check-in: 15:00  Check-out: 12:00
Other information
2 groups, max. 6 people per day
By reservation only, Open all year round(Monday to Thursday is B&B)
Cancellation Policy
Date of arrival: 100% of lodging fees
1 days prior to arrival: 80% of lodging fees
2-3 days prior to arrival: 50% of lodging fees
* Rates are subject to change.
Rooms
Max. 6 people
Two Japanese-style rooms with futon bedding
Amenities
soap,body soap, shampoo (including 2-in-1 shampoo),toothbrush,yukata
Facilities
Hot water wash toilet,kitchen,refrigerator,dishes,fan,clothes line,Internet (Wi-Fi),TV, hangers,fan heater


Bathing Facilities
None
We will introduce you to the nearby public baths used by the locals.
Enjoy "gensen kakenagashi" onsen bathing (real Atsumi Onsen flowing directly from the hot spring source).
Free pick-up/drop-off available
Others
Pets not allowed
No smoking
• A lounge and large room are available.
Meals
For dinner, please choose from a communal cooking experience (¥1,500) or eat at a nearby restaurant.
At the communal cooking experience, we will use seasonal ingredients to prepare local cuisine and popular dishes. (Photo shows Dongara-jiru (soup of winter cod) and Taimeshi (rice with seabream))
Alcohol and juice are charged separately. (Guests are welcome to bring their own drinks.)

* Please let us know beforehand if you have food allergies or food preferences.
Recommended Points at and around the Inn
[Activities at our Inn] [Seasonal menu] • Miso making ¥1,000 [January to March] • Morning market experience ¥1,000 [Saturdays and Sundays between April and November] • Rice paddy soil preparation, ridging, and rice planting experience ¥1,000
• Harvesting experience ¥1,000
• Mountain vegetable picking ¥1,000 [April to June] • Mt. Atsumi hiking ¥1,000 (May to October)
• Surf fishing ¥1,000 (September to December)
[Throughout the year] • Communal cooking experience ¥1,500
• Ramen making ¥1,000
• Craft a plastic basket out of PP tape ¥1,000
[Activities in the Area] • Swimming at Marine Park Nezugaseki etc
• Stroll through Atsumi Onsen
We can introduce various nature experiences and sightseeing spots to match your preferences.

From the Inn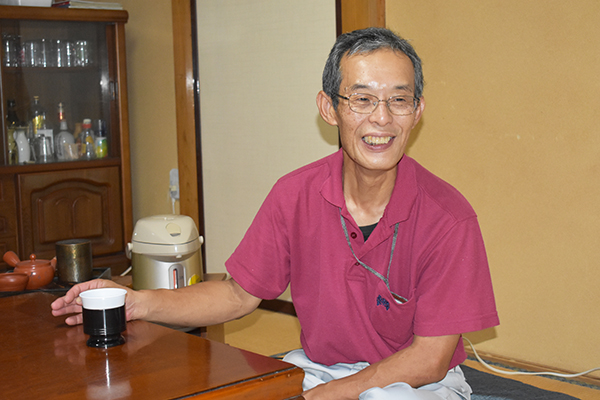 "Welcome home!" This is how we greet our guests.
We hope you'll enjoy a relaxing stay as if you have come to your own home.
The innkeeper likes to drink. Let's share a drink.
Farmhouse Inn Uenonti
Address
133-2 Otsu Yuatsumi, Tsuruoka, Yamagata 999-7204
Tel
+81-80-9330-2387
Fax
WEB
https://www.noukaminshuku-uenonti.com/
Facebook
https://www.facebook.com/noukaminshuku.uenonti
Twitter
Instagram
Access

[Access by car]
Approx. 5 minutes from Nihonkai-Tohoku Expressway, Atsumi-Onsen IC
[Access by Shinkansen or train]
Approx. 5-minute drive by car or approx. 40-minute walk from JR East, Atsumi-Onsen Station

★Pick-up:Available
★Parking spaces for 2 cars