Treasuring each new meeting Kurokawa Noh and Local Foods
Our farmhouse inn has been a guardian of "Kurokawa Noh" for many years.
Our Shojin-style vegetarian meals feature local produce. Please enjoy a relaxing stay in our old-style farmhouse.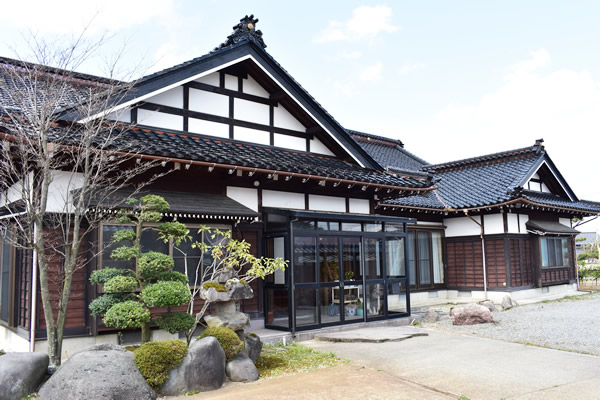 Gently inheriting tradition as though protected by Dewa Sanzan, Three Mountains of Dewa.
Enjoy the country landscape that surrounds our inn.
Tsuyahime rice, Sakuranbo cherries, Shonai persimmons, and
Vegetables freshly picked from our home garden.
Savor our satisfying taste of home and country-style cooking.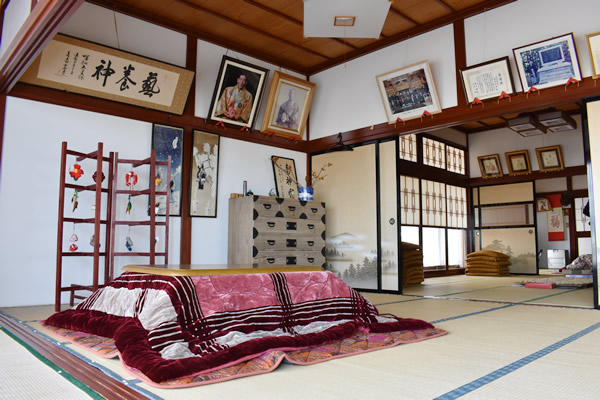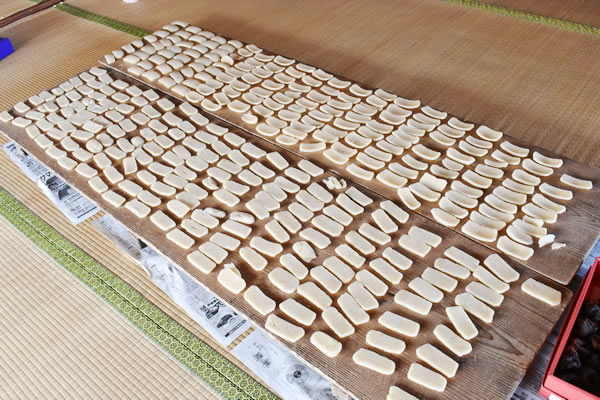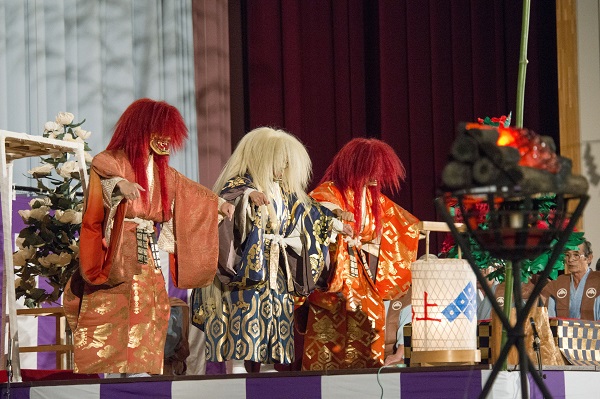 We work closely and support each other in our farming while operating our farmhouse inn in the Kurokawa district.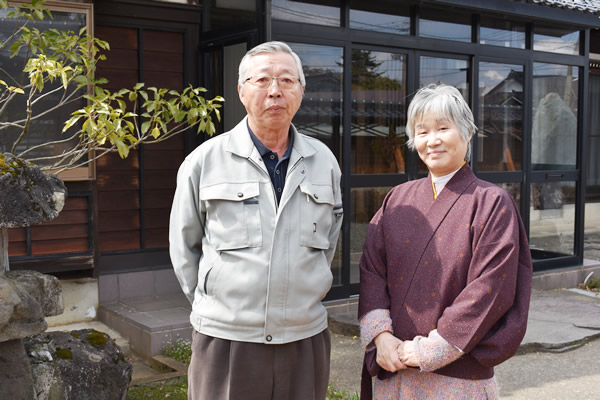 Farmhouse Inn Matsube Shigeharu and Sumiko Kenmochi
We are true Shonai people, born and raised in the home of Kurokawa Noh.
We await you with our gentle and heartwarming Shonai dialect.
Rates and Hours
Basic Rates
One night and two meals \7,500/person (tax included)
One night without meals \4,500/person (tax included)
One night with breakfast \6,500/person (tax included)
One night with dinner \7,000/person (tax included)
* A heating cost is added during winter.
Options
Payment
Cash only, Pay at Inn
Hours
Check-in: 16:00 (Negotiable)
Check-out: 10:00 (Negotiable)
Other information
Lunch From \1,000/person (tax exclusive)
Lunch with Japanese mitten crab From \1,000/person (tax exclusive) * Limited time between September and December.

Cancellation Policy
Date of arrival: 100% of lodging fees

* Rates are subject to change.
Rooms
Max. 5 people

Only Japanese-style room with futon bedding
Amenities
Body soap, shampoo (including 2-in-1 shampoo), conditioner, hair dryer
Facilities
Warm water bidet toilet, shower, bath, fan, washing machine, laundry pole, hangers, heating
Bathing Facilities
Bathroom available
Hot spring facility located nearby (Shuttle available) Kushibiki Onsen Yu-TOWN
Others
Pets allowed
Smoking allowed
Meals
★ Kurokawa Original Dinner
Our meals feature abundant mountain vegetables and home-grown vegetables. Enjoy a meal of seasonal and traditional Shonai dishes including freshly pounded mochi, shimi-dofu, Gassan dake bamboo shoots, and Harihari pickles.

★ Ogisai Special Menu Until Feb. 2 noon: Shojin vegetarian cuisine Feb. 2 night: Shojin oroshi (traditionally kandara, cold cod, is eaten)

Benkei Meshi (photo: onigiri rice ball wrapped in green leaf and grilled) is served during Kurokawa Noh. Benkei Meshi is available upon request.

Our meals feature home-grown vegetables, which have been prepared and seasoned with traditional methods. Sakuranbo cherries and Shonai persimmons are served for dessert. Please enjoy the flavors of Shonai.
Recommended Points at and around the Inn
[Activities at our Inn] Sakuranbo cherry picking, mountain vegetable picking experience, sasamaki (rice cake in bamboo leaf) cooking class, kata-mochi preparation. Negotiable (excluding summer season)

[Activities in the Area] Kurokawa Noh no Sato, Ogi Kaikan (* Kurokawa Noh and Shimai performances on request (Reservations required) Kasuga Shrine, Local Culture Preservation and Learning Center, Kurokawa Noh performance (Ogisai, Suien no Noh, etc.)
Furusato Mura Houya (soba noodle making experience), Akagawa Fireworks Show, Mt. Haguro Five-storied Pagoda, Matsugaoka-kaikonjou, Chido Museum, hiking/skiing at Mt. Chokai, fruit picking at fruit farm (introduced at Sanchoku Agri)

From the inn
Our inn is ideal for stays during the Kurokawa Noh festivals and events, and when you just want a leisurely stay in the countryside.
We look forward to meeting you.
Farmhouse Inn Matsube
Address
175-3 Aza Tsubaide, Kurokawa, Tsuruoka, Yamagata Prefecture
TEL
+81-235-57-2686
FAX
+81-235-57-2686
WEB
Facebook
Twitter
Instagram
Access
By car
* Approx. 10 min. from Shonai Asahi IC
By public transport
From S-MALL Bus Terminal, take Tsuruoka Matsune Line bus to Kamimatsune, and get off at "Hashimoto". Approx. 4 min. walk from bus stop.
* Pick-up/drop-off: Available
* Parking spaces for 8 cars