After a full day of fun in the mountains or river,
share a drink over a feast of mountain vegetables.
In the Kawaguchi District of Sakegawa Village, there is a tasteful house in a residential area surrounded by vast rice fields. "Farmhouse Inn Matsuno" is a popular lodge for both hands-on learnings for children and short trips for adults. The reason for this may be assorted experiences available and the innkeeper's personality. He is friendly and unique, sometimes tells in-depth stories peppered with jokes. Guests often enjoy an evening of fun conversation after dinner. The inn is also proud of its delicious cuisine that uses an abundance of fresh mountain produce. Here you will find a space where you can truly relax as if you have returned to your hometown.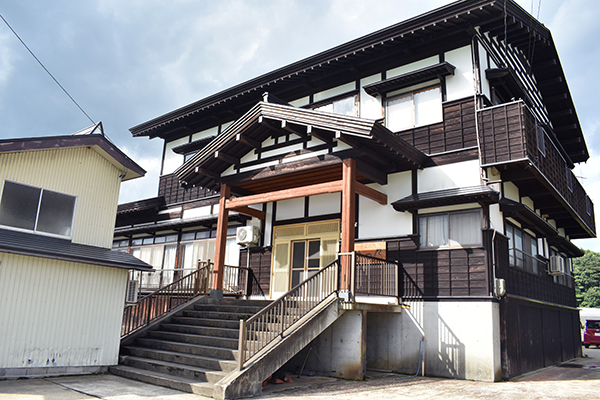 The rice fields and mountains spread out in front of and behind the inn. Enjoy the tranquil scenery with plenty of fun and relaxation.
There are so many things you can do to fully enjoy the nature of Sakegawa Village, including rice farming,
cast-net fishing, ayu sweetfish fishing, playing in the snow, straw crafts, etc.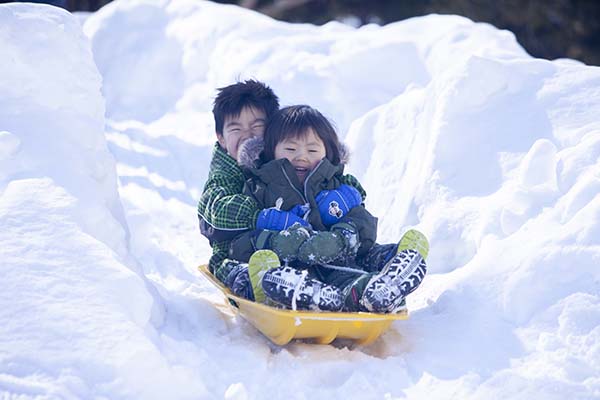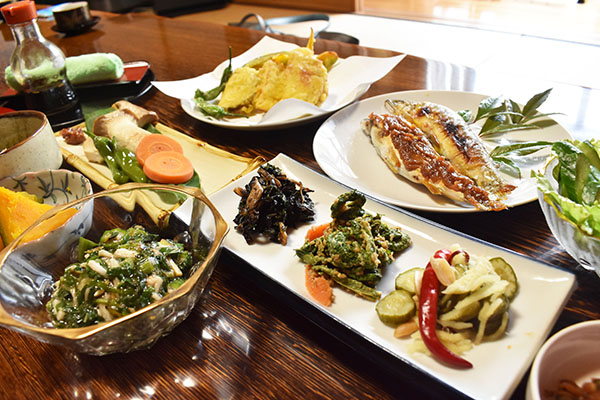 Play in the river or take a nature walk while enjoying fun talks.
Taste the delicious mountain delicacies that nature produces.
It's a great way to eliminate the stress of everyday life.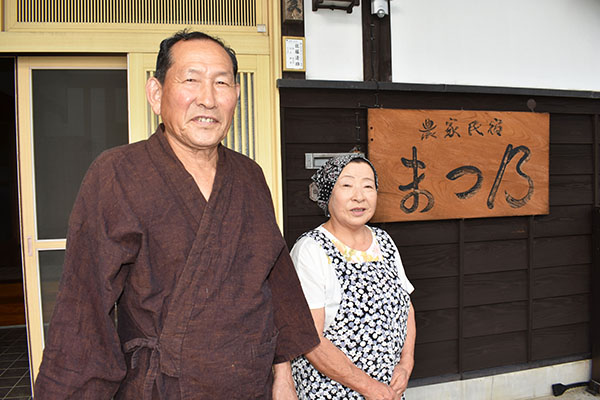 Farmhouse Inn Matsuno  Shigeo Sato
Chef Mitsuko Araki
The name "Matsuno" is taken my ancestors who first came to this Kamiobuchi area. I was born in this Kamiobuchi area and started off as a rice farmer. I then started making and selling bento lunches, and in 2013, opened this inn. The food prepared by Mitsuko Araki, who is in charge of cooking, is excellent. We hope you'll come to try it.
Rates and Hours
Basic Rates
• Matsuno Year-round Plan
¥7,000/night (tax inclusive)
• With two meals
• Matsuno Plan with "Nature experience"
¥10,000/night (tax inclusive)
• Includes guide fee for nature experience
• Includes breakfast, dinner, and bento lunch
Options
2 or more people are required to stay
Payment
Cash only,Pay at Inn
Hours
Check-in: 15:00   Check-out: 10:00
Other information
Cancellation Policy
Date of arrival: 100% of lodging fees
* Rates are subject to change.
Rooms
Max. 5 people
Two Japanese-style rooms with futon bedding
Amenities
soap,body soap, shampoo (including 2-in-1 shampoo),conditioner,hair dryer
Facilities
toilet,shower,bath,kitchen,refrigerator,dishes,fan,TV, hangers

Bathing Facilities
Bathroom available
We will introduce you to the nearby hot springs used by the locals. (Hanesawa Onsen, Ikiiki Land Ponpokan) Admission is included with accommodation fees. Free pick-up/drop-off available.
The inn's bath is also available for guests.
Others
Pets not allowed
No smoking

Meals
The inn serves dishes made from seasonal mountain vegetables and river fish.
Fresh ingredients harvested through hands-on activities can also be prepared and served.
Many repeat customers come to enjoy the country cooking prepared by Mitsuko Araki, who has been cooking with the innkeeper, Mr. Sato, for almost 20 years!
From the Inn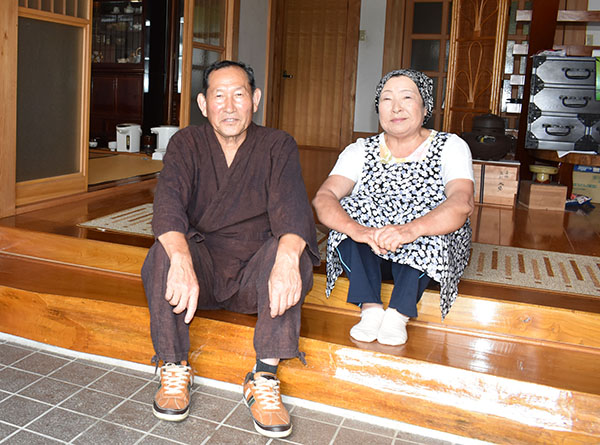 Our inn is located in the northern part of Yamagata Prefecture, deep in the mountains where traditional nature remains. We hope you will experience this nostalgic "countryside" where you can eat mountain vegetable dishes, take walks in the fields, and play in the river.
Farmhouse Inn Matsuno
Address
956 Kawaguchi, Sakegawa, Mogami-gun, Yamagata 999-5203
Tel
+81-233-55-2122
Fax
WEB
http://matsuno-s.sakura.ne.jp/
Facebook
Twitter
Instagram
Access

Access by car
Approx. 15 minutes by car from Tohoku Chuo Expressway Shinjo IC
Access by shinkansen or train
Approx. 30 minutes by car from Ou Honsen Shinjo Station

• Pick-up/drop-off: Please indicate when making reservations.
★ Parking spaces for 5 cars