Relax with fruity aromas and fresh brick-oven pizza
Daichan Farm Guest House is located along the Mogami River in Yamagata Prefecture. The 10th generation farm owner, coming from farming history of more than 450 years, believes that "guest fans are family." He treasures each connection he creates with his guests. Come help till the land and experience a simple lifestyle. Take meals together and feel the simple, country hospitality. Nature-rich "Asahi-machi" is overflowing with apples, wine, and friendly people!
Listen to the music of the Mogami River, soak in the aroma of fruit, and let your body relax at our relaxing inn.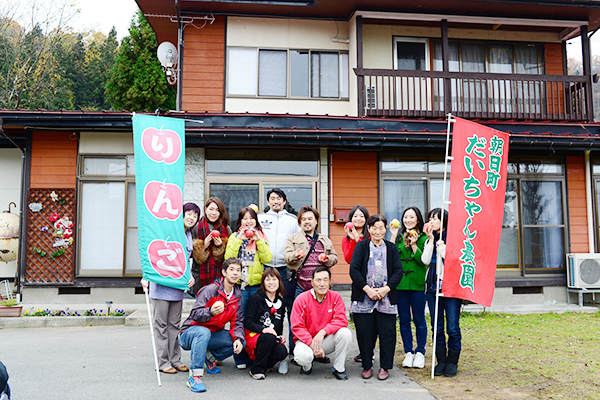 Enjoy pizza freshly baked in our handmade brick-oven located in our luscious natural garden. The entire town is a natural museum. Visit the world's only Kuki Jinja (Air Shrine). Seasonal fruits and organic vegetables are all grown by the owner.
Experience country life in a background of magnificent nature!
You'll be welcomed with a cup of homemade herbal tea or our original apple juice.
In your room, enjoy seasonal fruit, lovingly grown by the owner,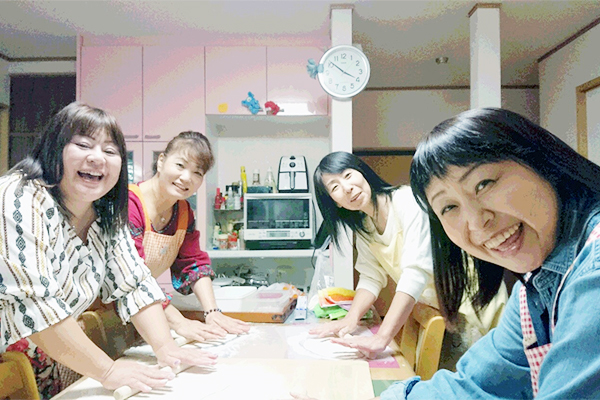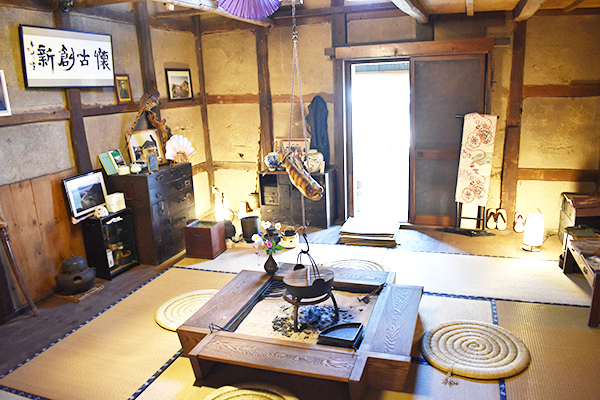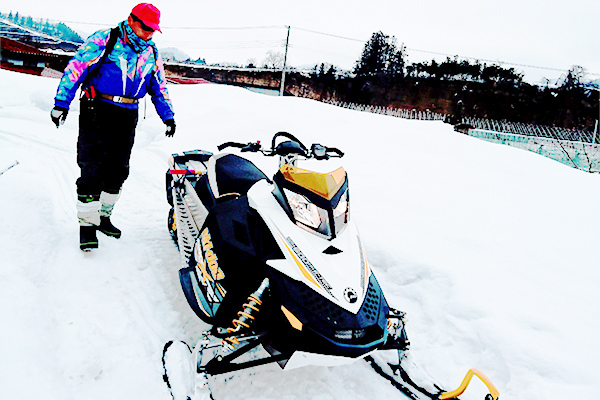 Our family and crew hold banners as they welcome you and see you off.
We treasure our meetings with our guests. We hope that you'll feel at home during your stay.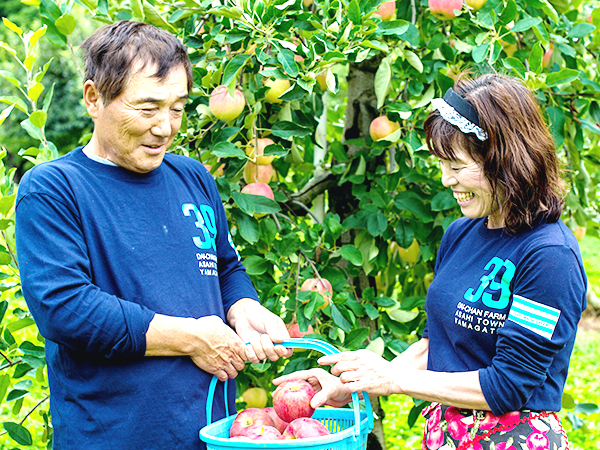 Daichan Farm Guest House  Masatoshi and Kazue Shito
The surname "Shito" was given by the Oshu Fujiwara-shi family as a proof that they were treated with hospitality. It is said that Daichan Farm started when Daisuke, family's eldest son, who had lost all his dreams, tilled the land with his father. The farm helped him become mentally and physically healthy. Today, we ship the cherries and apples we have grown with great care throughout Japan. Please see our website for more details
Rates and Hours
Basic Rates
One night without meals (tax inclusive)
(Per person) Weekdays ¥4,400 Saturday, Sunday, Holidays(8/13~16)(12/29~1/3) ¥5,500
* Ages 6 to 12 only: 20% off

Agri-helper Stay (limited to busy farming season) One night with three meals: ¥7,000
Options
Meals (tax inclusive) Dinner (per person) Casual ¥2,750 Formal ¥3,850
Lunch pizzacooking,Imoni party,BBQ(per person) ¥3,750 (from three people)
Breakfast (per person) ¥1,100
* Ages 6 to 12 only: 20% off
Payment
Cash or cashless (PayPay, Alipay)
Hours
Check-in: From 14:00  Check-out: 10:00
Other information
Cleaning fee per stay (¥1,000)
Heating costs (¥1,000) * Charged separately between November and March.
* Discount for consecutive stay. Ask for details.
* Early check-in (luggage check-in)
* Late check-out available (11:00)
Cancellation Policy
Date of arrival: 100% of lodging fees
2 days prior to arrival: 50% of lodging fees
7 days prior to arrival: 20% of lodging fees
* Rates are subject to change.
Rooms
Max. 5 people
CHERRY (Max. 3 people)
The large 26.5m2 Western-style room with romantic pink interior is sure to satisfy you. Futon and extra bed available.

APPLE (Max. 2 people)
Western-style room featuring Mickey Mouse wallpaper with green-based interior, and loft bed is just like a fairy tale.

Bathroom (Gold Coin Bath) Large two-person bath with deluxe facial care goods is open 24 hours.
Amenities
Towel, bath towel, soap, body soap, shampoo (including 2-in-1 shampoo), conditioner, toothbrush & toothpaste, comb and brush, razor, hair dryer, yukata, head pillow, face pack, face lotion, milky lotion, face wash, shaving lotion
Facilities
Warm water bidet toilet, shower, bath, kitchen (extra fee), refrigerator, dishes, locker, A/C, fan, washing machine (extra fee), clothes line, Internet (wireless LAN), TV, games (Nintendo Wii), hangers, hanten coat, juban robe, microwave, rice cooker, tea set, safe, hot water kettle, mirror, foot massager, iron, toaster, children's toys

* Charged services
Delivery services, tour guides, BBQ, kitchen, laundry, bicycles, shuttle service, fax, drinks, cup noodles, etc.
Bathing Facilities
Bathroom and Shower Room available
Hot spring facilities located nearby (with free shuttle)
* Ringo Onsen (with open air bath) … Approx. 5 minutes by car
* Imogawa Onsen (mineral bath). Approx. 8 minutes by car
* Terme Hakuryo (with open air bath and sauna) … Approx. 15 minutes by car
Others
Pets allowed (additional fee of ¥1,500 to ¥5,000)
No smoking (Smoking area available outdoors)
Meals
Dinner Choices:
Yaoi Hime Gozen (Ninozen) Select fermented germinated brown rice or white rice (Formal)
Family-style Nagomi Zen (Casual)

Breakfast
Served with seasonal smoothie or apple juice

* Pizza or Local Cuisine Cooking Lunches available (reservations required)
* All meals feature seasonal ingredients, and slow food such as fresh ayu (sweetfish) from the Mogami River
Recommended Points at and around the Inn
[Activities at our Inn] Farming activities (wild vegetable picking, fruit picking [cherries, blueberries, apples], vegetable harvesting, rice planting, rice harvesting, Japanese snowshoeing, snow removal experiences)
Mogami River Foot Path

[Activities in the Area] Canoeing, rafting, camping, skiing, making beeswax, river play, Asahi-machi wine sampling, Kunugidaira no Tanada one of Japan's top 100 rice terraces, Kuki Jinja, nature tours with Eco-Museum guide, local cuisine cooking (learn to make miso, konnyaku, or soba noodles), Japan Culture Experiences (for inbound visitors) Tea ceremony, dressing in a kimono, calligraphy, Traditional arts (Daikoku Mai, Nankin Tamasudare, folk tales) at old traditional Japanese house.
From the Inn
We hope you'll come visit us just like visiting your country home.
Meals can be prepared to meet vegetarian, allergies, and Halal needs. We also offer a variety of outdoor cooking selections. There's fun for everyone, even children and pets.

* Only registered guests may spend the night. Please be quiet during late hours.
Daichan Farm Guest House
Address
202 Tamanoi-Tei, Asahi-machi, Nishimurayama-gun, Yamagata 990-1302
Tel
+81-237-68-2301
Fax
+81-237-68-2301
WEB
http://daichanfarm.com/
Facebook
http://www.facebook.com/people/.../100014388128430
Twitter
@DaichanFarm
Instagram
daichanfarm
Access

Approx. 50 min. from JR Yamagata Station West Exit by direct bus to Asahi-machi (Get off at "Shogakko-mae". Approx. 5 min. by pickup car.)
Approx. 30 min. from Sagae Bus Terminal (in front of Sagae Station) by Yamako Bus to Miya-juku (Asahi-machi Town Hall) (Approx. 20-min. walk from"Kawadooriguchi" bus stop.)
Approx. 20 min. from Aterazawa Station by taxi
Approx. 40 min. from Yamagata Airport by rental car
By car from Tokyo (Tohoku Expressway ? Yamagata Expressway ? Sagae IC ? R287 ? R287- Asahi-machi)
By car from Sendai (Approx. 2 hrs, by R48 Higashine ? R287 Kahoku ? R278 ? Asahi-machi, or approx. 1 hr. 20 min. using Yamagata Expressway)

★Pick-up/drop-off: Available (for an extra fee)
★Parking spaces for 10 cars (free)