Farmhouse Inn Hachimitsuya

Experience country living at an inn with bee farm
"Onuma Bee Farm", which collects and sells honey from local wild flowers, and "Hachimitsuya", a farm restaurant and inn are run by a husband-and-wife team. A variety of fun activities are available throughout the seasons including picking mountain vegetables in nearby privately-owned mountains, trying out local cuisine, and experiencing the local country life.
Hachimitsuya is suitable for families and friends, and outdoor activities by groups and schools.
Come experience our country lifestyle.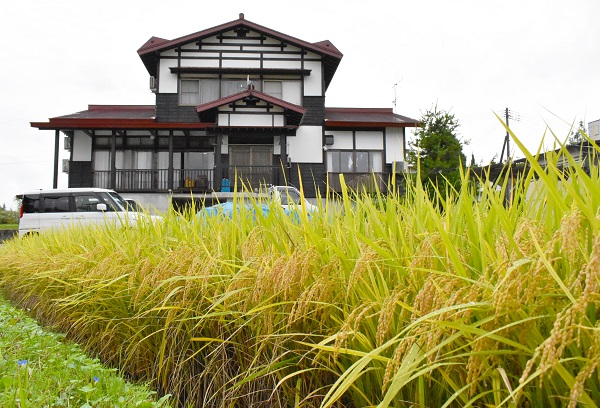 Vast rice paddies extend behind the quiet hamlet.
Hachimitsuya offers a variety of unique activities,
from visiting the bee farm to making beeswax candles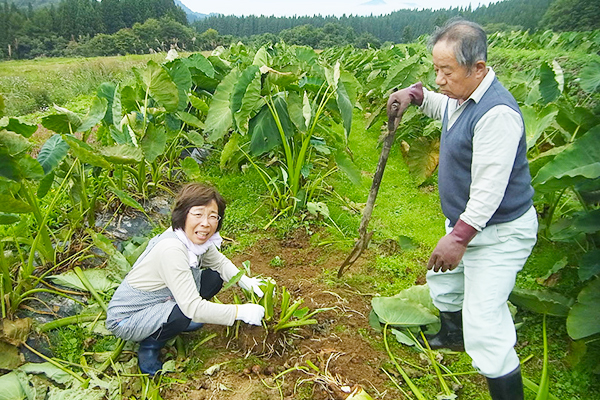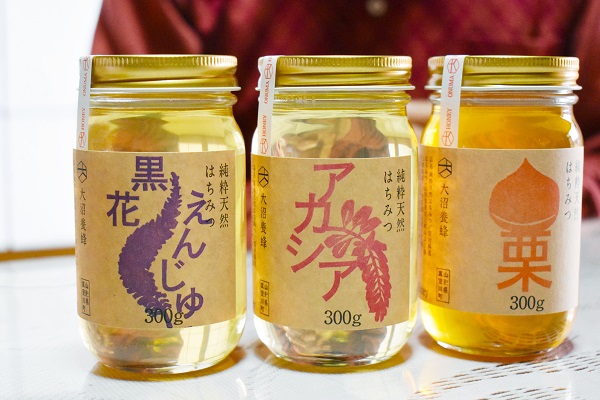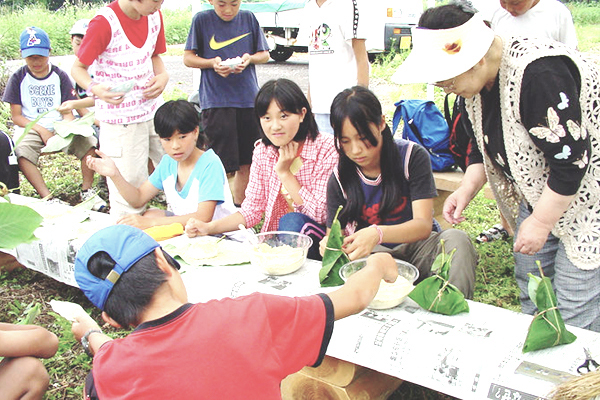 Live in nature; play and learn with nature
Come experience the wonders of country life.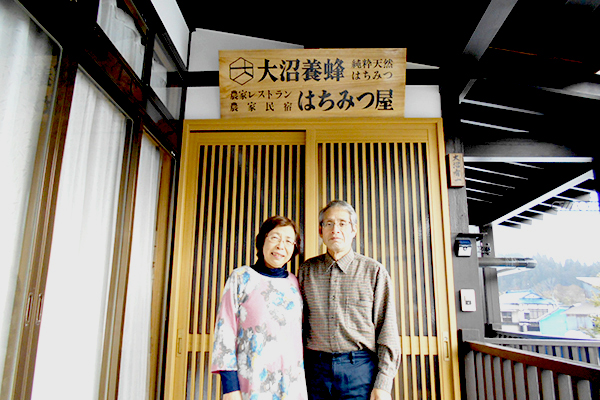 Farmhouse Inn Hachimitsuya  Yuichi and Kiyoko Onuma
We believe that people grow daily while living in nature, and playing and learning with nature.
Come experience our nature-rich country lifestyle, and try picking mountain vegetables, visit the honey bees, and play in the snow, etc.
Learn about Japanese life in the Showa era through displays of traditional sashimono crafts, etc.
Rates and Hours
Basic Rates
One night with two meals ¥8,000 (tax exclusive)
Options
Payment
Cash only, Pay at Inn
Hours
Check-in: 16:00
Check-out: 10:00
Other information
A/C ¥1,000/day per person
Two or more guests ¥500/day per person
Cancellation Policy
Day of arrival: 100% of lodging fees
1 day prior to arrival: 50% of lodging fees
2 days prior to arrival: 30% of lodging fees
* Rates are subject to change.
Rooms
Max. 5 people

Two Japanese-style rooms with futon bedding

Summer: Mosquito net available in one room.
Winter: Electric blankets available.
Amenities
Soap, body soap, shampoo (including 2-in-1 shampoo), conditioner, hair dryer
Facilities
Warm water bidet toilet, shower, bath, A/C, fan, washing machine, clothes line, Internet (wireless LAN), TV, hangers, rental PC available
Bathing Facilities
Bathroom available
Hot spring facility nearby
* Mamurogawa Onsen Bairien
Others
Pets not allowed
No smoking
Meals
Meals feature mountain vegetables and river fish cuisine
Please tell us if you have allergies.
Recommended Points at and around the Inn
[Activities at our Inn]
Bee farm visit, mountain vegetable picking, vegetable (tomato, eggplant, taro, etc.) harvest experience, etc. (Spring) Mountain vegetable picking, chimaki (rice cake in bamboo leaf) and hoba leaf rice cooking classes, nameko mushroom inoculation, fishing, bee farm visit, etc.
(Summer) Chimaki cooking class, beeswax candle making, honey bee tour, etc.
(Fall) Chestnut picking, taro harvesting at Arak, imoni taro soup making, yam digging, dried persimmon making class, etc.
(Winter) Kamakura (snow dome) building, snow play, beeswax candle making, wild grape vine strap making, etc.

[Activities in the Area]
Mountain stream fishing, UNESCO intangible cultural heritage "Shinjo Festival"
Ominowa-no-oosugi (The Big Cedars of Ominowa) at Kaneyama-machi
Mogami River Basho Line Boat Ride
Totoro Tree (Sakegawa-mura), Ozeki (Kaneyama-machi)
From the Inn
We sell our honey at farmer's markets and other shops throughout Yamagata.
It is said that eating a little honey every day wards off illness and keeps your skin smooth.
We hope you'll stop by just as if you are coming home to visit your country relatives.
Farmhouse Inn Hachimitsuya
Address
5599-2 Osawa, Mamurogawa-machi, Mogami-gun, Yamagata 999-5521
Tel
(Nighttime) +81-233-63-2708
(Daytime) Cell +81-90-9030-7166
FAX
+81-233-63-2508
Website
https://onumahoney.jimdo.com/
Facebook
Yuichi Onuma
Twitter
Instagram
Access

Bus: From Mamurogawa Station, take bus for Takasaka. Get off at Isagozawa. 3-minute walk from bus stop.

★Pick-up/drop-off: Available (negotiable)
★Parking spaces for 2 to 3 cars