Craft Studio and Guest House FUu~

Enjoy making original shippo-yaki cloisonne ware at our activity-type guest house.
"Craft Studio and Guest House FUu ~" is located in a farming village with beautiful rural scenery.
You'll find a colorful art space within the wooden inn reminiscent of the Showa era.
Forget the time while having fun creating original cloisonne ware pieces.


Murmuring stream and singing insects.
The countryside behind our guest house is rich in nature.
Enjoy cloisonne ware making!
Our craft studio is a popular access point for sightseeing.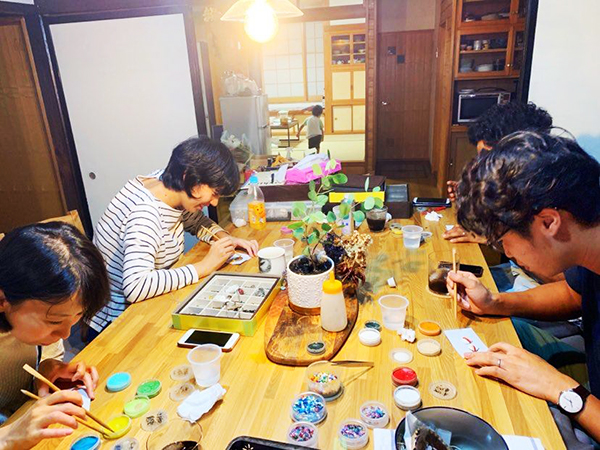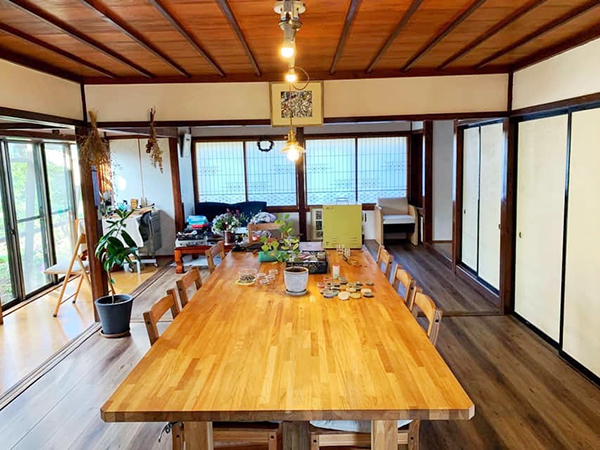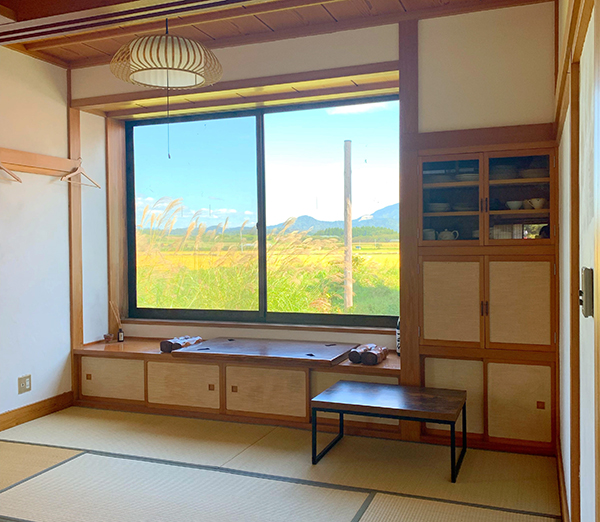 FUu~ Take a deep breath and relax.
Enjoy a laid-back and tranquil moment.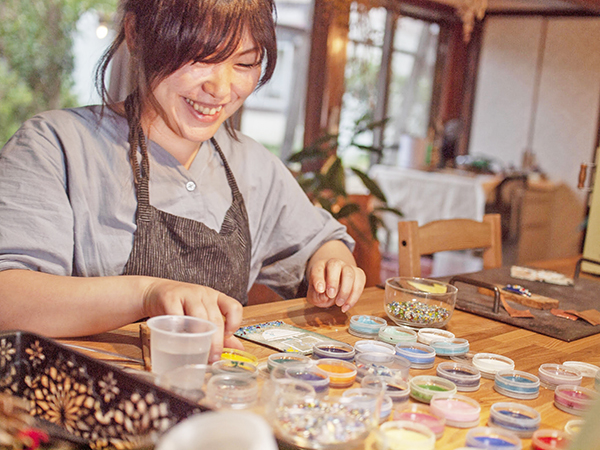 Craft Studio and Guest House FUu~ Fuyumi Ooyama
Influenced by my mother, making cloisonne ware was a favorite pastime since I was a child.
I hope many people can experience easily and learn about cloisonne ware at FUu~'s Craft Studio.
At the same time, I hope you can spend some relaxed country time that's different from your everyday life.
We welcome everyone, even if you are not interested in cloisonne ware.
Rates and Hours
Basic Rates
¥4,000/person / night (tax inclusive) (No meals)
* ¥1,000/person / night (12 years and younger)
* ¥500/person / night (preschooler)
* 3 years and younger: Free

¥8,000/person / night (tax inclusive) (With Cloisonne ware activity) (No meals)
Options
Guests are free to eat the vegetables and fruit we've received from neighbors in the house.
Payment
Cash or PayPay
Hours
Check-in: From 14:00
Check-out: 10:00
Other information
Cancellation Policy
Day of arrival: 100% of lodging fees

Rooms
Max. 5 people

Two Japanese-style rooms with futon bedding
■We have one 2-person room and one 3-person room. (Max. 5 people)
* Please contact us if your party has more than 5 people.
Amenities
Body soap, shampoo (including 2-in-1 shampoo), conditioner, hair dryer, toothbrush (extra fee), face towel (extra fee)
Facilities
Toilet, shower, bath, kitchen, refrigerator, dishes, A/C, washing machine (extra fee), clothes line, Internet (wireless LAN), TV, hangers, various seasoning, kettle
Bathing Facilities
Bathroom and Shower Room available
Hot spring facilities located nearby (Pick-up/drop-off available)
Kurhaus Goten

Others
Please ask about pets
Smoking allowed (outdoors or under ventilation fan)
Meals
★No meals (Guests are free to use the kitchen and cook their own meals.)

★Hippari Udon set available for purchase (¥800 / person)
The Tozawa District of Murayama City is the birthplace of Hippari Udon, a regional specialty of Yamagata Prefecture. Everyone enjoys the udon noodles while pulling them out of a common pot. It's very easy to make!

Recommended Points at and around the Inn
[Activities at our Inn]
Accommodation & Cloisonne ware Activity
¥8,000 to ¥12,000/person
All accessories (limited colors, for beginners)
¥9,000/person
All accessories (Use colored glass powder called glaze to make a photo frame)
¥12,000/person
Accessory & plate (Persons who have made cloisonne ware two or more times)
* All prices above include accommodations and activity fees.

One-day cloisonne ware activity
Visitors can try making cloisonne ware
¥3,200/person~ (Required time: 3 hours or less)
(The price will vary by craft item, techniques used, and colors.)

Fruit festa
¥500 to ¥1,400 / person (depends on type of fruit)
Saito Farm Fruit picking activity (free bicycles available for guests)


[Activities in the Area]
Soba making activity
Junsai (water shield) picking activity (seasonal)
Pottery making activity
From the Inn
Are you interested in cloisonne ware? Want to relax in the countryside? Spend some time with your girlfriends or family? FUu~ provides a unique experience for everyone.
FUu~ is surrounded by the countryside, and we have an onsen, a fish market, and a convenience store nearby.
We hope you'll have a relaxing time while enjoying the countryside.
We look forward to your visit.
Craft Studio and Guest House FUu~
Address
1152-1 Oaza Shirotori, Murayama City, Yamagata Prefecture 995-0202
Tel
+81-90-4048-8772
Fax
WEB
https://www.minpakukobo-fuu.com/
Facebook
https://www.facebook.com/pages/%E6%B0%91%E6%B3%8A%E5%B7%A5%E6%88%BFfuu/100284498055092
Twitter
Instagram
https://www.instagram.com/minpakufuu/
Access
Approx. 15 minutes by car from JR Murayama Station

[Access by car]
Approx. 15 min by car from Tohoku-Chuo Expressway Higashine-Kita IC.
* Approx. 7 min from Kurhaus Goten.

[Access by Shinkansen and train]
Approx. 3 hrs 10 min from JR Tokyo Station by Yamagata Shinkansen.

The closest station to Craft Studio and Guest House FUu~ is JR Ou Main Line, Murayama Station (closest Shinkansen station).

★Pick-up/drop-off: Available (between FUu~ and Kurhaus Goten)
★Parking spaces for 2 cars